Hello again friends, 
We Start the show this week with a brief review of the documentary, Summer Of Soul, a documentary covering the happenings in 1969 around Harlem.  There was a fabulous black music festival held over a series of days. The organisers recorded and filmed everything but then it was forgotten in favour of the more commercially popular, Woodstock. 
Summer Of Soul captures the atmosphere of what was going on at the time culturally, politically, & musically.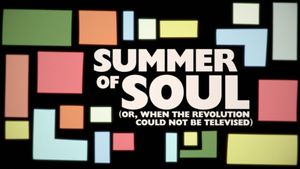 The Summer of Soul film is now available on most streaming platforms. 
Two of the acts on stage early on in the film are The Chambers Brothers, and we continue to another mesmerising performance from The Staples Singers. 
We return to our usual programming with tracks from, Flying Lotus, Debra Jordan, Native Dancer, Moon & Sticky Dub, tracks from Werkha's new album (All Werk Is Play), Space Dolphin, and much more! 
Enjoy!
ElecSoul#96 Tracklist: 
Uptown - The Chambers Brothers 
https://www.discogs.com/release/7743345-The-Chambers-Brothers-Uptown 
Funky Love - Mavis Staples 
https://www.discogs.com/search?q=Funky+Love%20Mavis%20Staples&type=all 
Between Memories - Thundercat 
https://flying-lotus.com/black-gold-between-memories/ 
Heartbroken - Debora Jordan (K15 Remix) 
https://deborahjordank15.bandcamp.com/track/heartbroken-2 
We Can Do Everything - Quiet Dawn 
https://quietdawn.bandcamp.com/album/movements 
Full Moon Syndrome - Native Dancer 
https://nativedancer.co.uk/track/full-moon-syndrome-single 
Microwerk - Werkha 
https://werkha.bandcamp.com/track/microwerk 
Pick Up Football  - Werkha 
https://werkha.bandcamp.com/track/pick-up-football 
Soul of Man - moon & Sticky Dub 
https://moonwun.bandcamp.com/track/more-than-the-physical-ft-sticky-dub 
Tonight We Rise - Andrés 
https://moodsandgroovesrecords.bandcamp.com/track/tonight-we-rise 
Somewhere Else - Scott Diaz, LOA. 
https://puromusiclabel.bandcamp.com/album/pmva002-voices-of-purobeach 
Stop The Games - Potatohead People, Trailer Lemon 
https://www.discogs.com/release/13282863-Potatohead-People-Featuring-Trailer-Limon-Stop-The-Games 
Inner World  - Azar Azar (K15 Remix) 
https://azarfromspace.bandcamp.com/track/a1-inner-world 
Left Lion  (feat. Ty Healy) - Space Dolphin 
https://spacedolphinuk.bandcamp.com/album/more-than-soul 
No Sacrifice (Dutchie Remix) - Soothsayers 
https://soothsayers.bandcamp.com/track/no-sacrifice-dutchie-remix 
DJ Robbie Duncan 
www.djrobbieduncan.com